LAW
Policymaker

Lobbyist

Policy Analyst
MANAGEMENT
Natural Resource Manager

Environmental Assessor
GIS
Geospatial Analyst

Data Scientist
Overlap Area 1:
Management and Law
Permitting

Operations and Management (O&M)

Regulations and Compliance
Overlap Area 2:
Law and GIS
Planning and Zoning

Conservation Commission

Regional Development Board
Overlap Area 3:
Management and GIS
Planning and Implementation

Environmental Planner

Land Use Planner

Recreation Planner

Transportation Planner

Urban Planner

Conservation Planner

Energy Resource Mapping

Site Planning
Overlap Area 4:
Management, Law, and GIS
Sustainability Director

Sustainability Program Coordinator

Environmental Consultant

Land Trust Administrator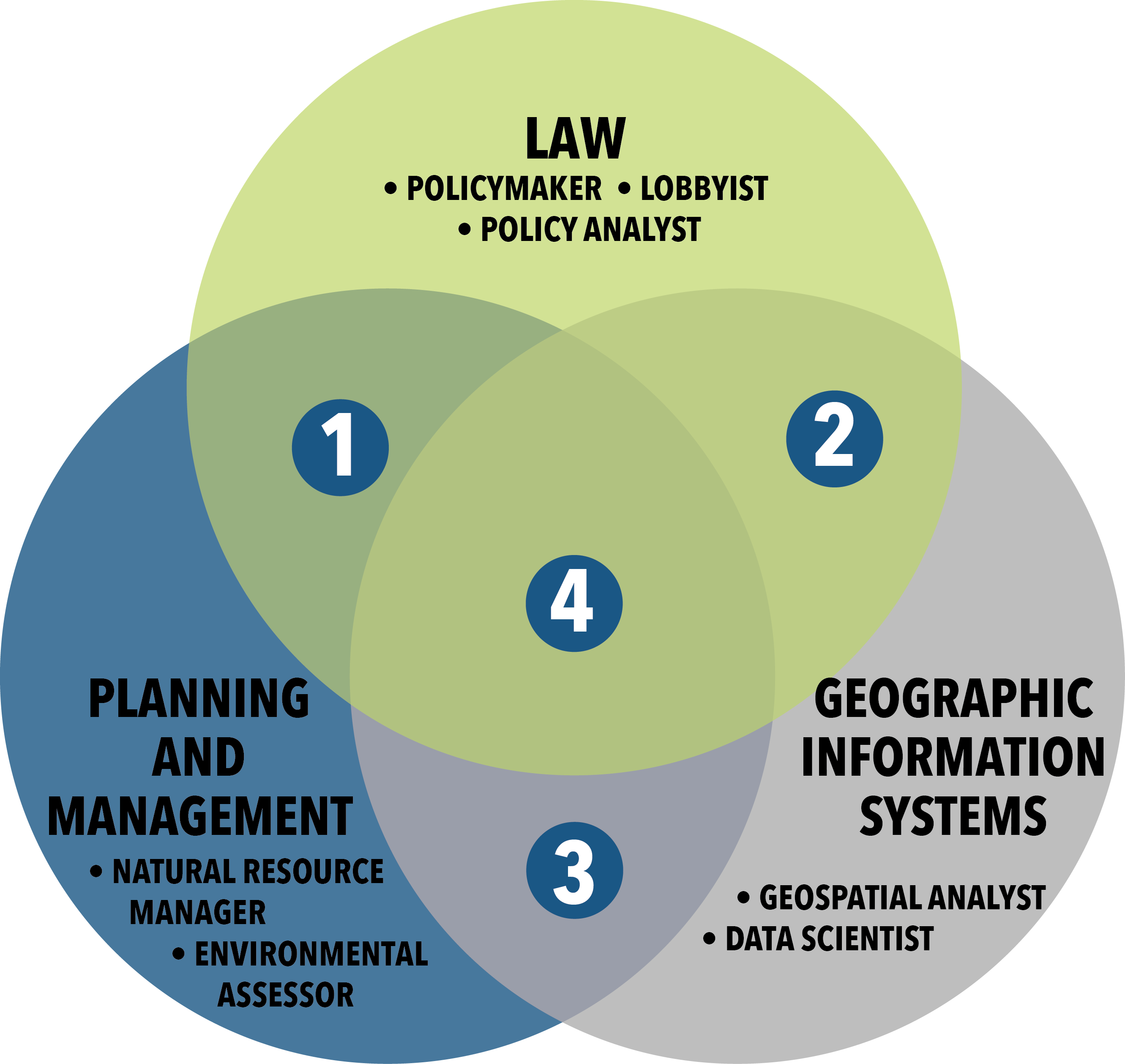 Environmental Management Job Resources
What are Environmental Management career paths?
American Association of Geographers
This is a large site that includes a range of information about job and career trajectories, salary estimates, etc
UCGIS, the University Consortium for GIScience
The University Consortium for Geographic Information Science (UCGIS) is a non-profit organization that creates and supports communities of practice for GIScience research, education, and policy endeavors in higher education and with allied institutions. We are the professional hub for the academic GIS community in the United States, with partnerships extending this capacity abroad.

Conservation Job Board
https://www.conservationjobboard.com/
Environmental Career.com
https://environmentalcareer.com/
Environmental Jobs and Careers
https://www.ziprecruiter.com/Jobs/Environmental-Professional
Green Jobs Network
http://www.greenjobs.net/